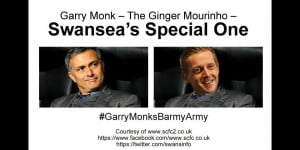 Less than 2 weeks ago, the board of our club made a very brave and courageous decision. For the first time in over 12 years, the club decided to sack a Manager.
Not since Nick Cusack was in the hot seat at the Vetch have Huw Jenkins and his board actually dispensed with a manager. Much was made of their decision. Many outsiders called it a panic move and some even suggested we had lost our way as a club.
How could the club dispense of this legend of the game especially when he had won us our first trophy and led us into Europe? I saw a number of London based journalists also laugh at the appointment of Garry Monk as Head Coach to replace Michael Laudrup. Garry who they said?
How could a guy like this help us escape relegation and manage big name footballers like Michu and Wilfried Bony?
To those who know nothing about the club we were off our heads but to those who know everything about Swansea City, it was a genius move.
Whilst we weren't bottom of the league, some of the passion, zip and desire which had driven our success over the past 10 years was slowly being eroded. It was becoming acceptable to lose games and to not train as hard as before and this relaxed approach could have sent us to the Championship and put at risk the future growth and development of the club as a whole.
The board knew it, senior players knew it but whilst the previous management might have considered it, they didn't really take this threat seriously.
Putting a stop to this slide in league position and club standards meant relieving Michael Laudrup of his job and putting in place a manager who could bring back the standards which had fuelled our success in recent times. Finding someone who could come in and make an immediate impact seemed impossible.
Impossible to those who don't know our club but to those who know Swansea City it was clear that our next manager would be Garry Monk or as I am now calling him, the 'Ginger Mourinho' 🙂
Garry has been our club captain for over 10 years and someone who has become an adopted Jack. I have met 'Monks' on a number of occasions and each time it has been clear to me that this man is intelligent, passionate and a real general.
Garry is someone who has earned respect within all levels at the football club and whether it is organising players to do their job at corners or directing players to their lane at Swans Trust bowling events, Garry Monk was and is a leader.
Even though in recent years he has played less games, Garry has always maintained a strong presence in and around the club. Whether it's helping new 1st team players settle in or guiding the U17's on the way to be as a professional, our new manager has ensured the 'Swansea standards and way' are instilled into every player who has the privilege to wear our great shirt.
Garry has been on every step of our footballing journey over the last 10 years. He has experienced the rough and tumble of League 2 and 1 where grit and determination are a requirement for success and he has then adopted and championed the passing and pressing game which has given us success in the Championship and Premier League.
He has learned from some of the greatest modern day football managers on how to play football and manage players and he has further developed this knowledge through the taking of UEFA coaching badges.
He understands when to have fun but also that to have fun, you need to achieve results. He understands the passion and commitment we give as fans to the club and knows what Swansea City means to us all. He has seen us go from bottom to top and seen what the building blocks for success are and how standards need to continue rising if we are to continue progressing.
These characteristics coupled with his approach in recent games has convinced me more than ever that he is the man to lead us as a Manager over the next few years.
Forget the media and their speculation on a range of 'big name managers' who can take us forward, Garry Monk can become the 'Swansea Special One' and our very own 'Ginger Mourinho'!
I know fully well that he has only been a manager for 2 games and so comparing him to a legend of the game such as Jose may seem daft to many. He has however many of the same characteristics as the Chelsea boss!
Garry has a real understanding of the DNA of our club and what it means to wear the WHITE shirt. His passion for the game is clear and he has shown tactical awareness with clever substitutions and team selections.
He has spoken openly about his work ethic and standards and the way he backs and supports his players is a trait Jose has been well known for. The response from Ashley Williams last Saturday and the smile on Wilfried Bony's face shows that he is inspiring his team and by talking to them and understanding them as people, he is getting more from them as a result.
He is a winner who demands the best in every game and whilst there is no doubt we will go through some ups and downs in the coming months, I have no doubt that throughout all of this, Garry won't let us settle for 2nd best as a club.
Achieving further success from where we are now has been suggested as nigh on impossible according to some but from speaking to our Chairman I know that he refuses to believe that we have reached our ceiling. Huw and the board believe that through careful planning and a hard work ethic we can continue to progress as a football club.
Progressing onto the next level requires stability in the boardroom and desire and belief in the dressing room. I wasn't sure we had both 2 weeks ago but I am dam sure we have it now.
We have as Swansea City fans experienced unprecedented success over the last 10 years. We have climbed division after division, established a wonderful style of football, won our first major trophy and experienced a European football adventure for the first time in over 20 years.
Different managers have helped us on this journey and each has brought something to our club which have allowed us to progress and develop. We should be thankful for each of them but as with everything in life, there comes a time when change is needed. Although it seemed harsh at the time, our continual progression as a club was in serious threat of being severely dented without decisive action being taken and I for one am proud of the brave decisions the club has made.
We will always been grateful for the success that Michael Laudrup brought us but it was time to move on. It was time to get the passion, desire and energy back into our club and we have done that through the appointment of the 'Ginger Mourinho'!
The Swansea Special One has endeared himself to us as fans already as a result of last Saturday's derby victory but he has done more than that. He has given the players, board and fans our belief back and has made us all realise that what makes us special as a club is not big names and money but spirit and togetherness.
So, ignore the London press and the agents putting their special man forward. HJ has appointed our own 'special one' and I for one am looking forward to the Ginger Mourinho managing the club I love for many years to come!
#gingermourinho #garrymonksbarmyarmy