Almost two months into the 2019/2020 football season, it's high time we brought you our review of EA Sports FIFA 20 video game, which hit the shelves a few weeks ago.
We took the game for a test-drive over the international weekend, with naturally Swansea City as our favourite team, as per all of the other FIFA games we've played.
As regular players of FIFA will know, each new release of the game doesn't exactly rewrite the way football is played on our games consoles, they merely tweak certain aspects of the game and throw in some new modes for good measure.
In that respect, FIFA 20 is no different, with FIFA Ultimate Team (FUT), Career Mode, and the all-new Volta – aka street and indoor football.
So we'll kick off our review by looking at each of these game modes.
FIFA ULTIMATE TEAM (FUT)
FUT is as enjoyable and addictive as it always is and with the new Club Customisation features such as custom kits, club badges, stadium banners and celebrations, players can really display their own unique style on and off the pitch.
There is also a new social side to FUT in the shape of Friendlies, which give you the option to play with friends or the FUT community through both competition and co-op modes.
Aside from these new additions, there does also appear to be more iconic players than ever before available to help build your team, which is a big bonus for FUT regulars and newbies alike.
In terms of the Swans, the ten Top Rated players are shown below, with the likes of Wayne Routledge, Jay Fulton and Connor Roberts all being a 70 following on behind.
First choice goalkeeper Freddie Woodman is rated at 67!
Other refinements to the user interface arguably make this mode of the game the most refined and reliable of the lot, which of course is no bad thing if you love playing FUT as much as we do.
FIFA CAREER MODE
Unfortunately, despite such new innovations, such as manager customisation, press conferences and stuff around player potential and team morale, our initial impressions of Career Mode in FIFA 20 weren't exactly positive.
The bottom line is that there were (at the time of the review) several bugs which needed addressing. Chucking players out of the game during that moment of glory with the team you support is hardly going to endear gamers to FIFA 20.
We all know that Career Mode is a complex beast and can in some respects be forgiven for the odd blip here and there, but from some rather irrelevant post-match interview questions to some broken (and I mean broken) commentary, it really is disappointing.
Career Mode isn't everyone's cup of tea but it does (did?) have its attraction for many FIFA players – my kids included – but this time around it just feels like a semi-inflated football in much need of pumping up.
The good news is that it can probably be fixed with a patch or two, so let's hope that is the case sooner rather than later.
A quick Google search finds that we're not alone in experiencing issues with Career Mode and it is heartening to hear that EA do intend to fix the problems.
VOLTA FOOTBALL
The addition of the street and indoor football – or Volta as it is known in FIFA 20 – is long overdue and credit must be given to EA for actually heeding the calls of many fans to add it to the game.
For those of you who remember FIFA Street, then Volta will already be semi-familiar to you.
The mode is inspired by the small-sided form of football played in streets, cages, and futsal courts around the world, requiring quick skills and moves – not to mention thinking!
There is a heavy emphasis on skill moves and one of my favourites of using the wall to pass to a team-mate. It's all good, quick and fun and you can choose endless ways to customize your male or female player.
The different game modes Kick-Off, World, Story and League also add to the excitement, variety and appeal of Volta.
In many respects, Volta reminds me of what playing FIFA used to be like. Simplistic and easy to play (score), whereas the playing refinements to FIFA's 11v11 game have in making the game more realistic, taken away its simplicity.
In many ways this is a good thing, as it will keep both gaming football camps happy – those who enjoy a quick, easy game of football (albeit on a smaller scale) to those who just want the real feel and quirks of the beautiful game.
The Volta football mode is certainly a positive addition to the game and one which I'd imagine EA will evolve further in future releases of the game.
GAMEPLAY
Of course the real test of how good or bad FIFA 20 is as a football game, depends on the quality of the gameplay, as after all it is a football simulator at the end of the day.
Every release of FIFA aims to raise the bar in terms of making the gameplay for realistic, something which Pro Evolution Soccer (PES) always seemed to have the edge over its rival.
I said in our review of FIFA 19 last season that there were improvements made in terms of the realism of the gameplay.
Once again this season, it's noticeable that further tweaks have been made to the AI and generally the gameplay is indeed more realistic that it has ever been before – no longer can I regularly hit a speculative 25 yard worldie and watch it bulge the back of the onion sack or breeze past a defender as if I was sonic the hedgehog.
Now it is more about knocking the ball about, probing for a gap in midfield before finding that intricate pass to put your striker through on goal, just as you would expect in a real game of football – well if you are used to watching the 'Swansea way' of course.
The AI of defenders has certainly improved, which them being able to break up play through the interception of long passes or indeed those intricate through balls I was talking about.
Of course as with any AI there will always be room for improvement but credit where credit is due, EA have done a grand job overall this time around.
It is without doubt harder to score goals, whilst keeping play realistic all the same, with the tackling elements of the game certainly getting a well-timed tweak in terms of realism.
The bottom line is that FIFA 20 is certainly getting closer and closer to emulating the real thing and that in itself is a massive achievement, which makes creating and scoring all the more satisfying.
Getting to grips with the control combinations can be a little daunting for those who are relatively new to FIFA, so it is always worth having a read of the in-depth control guide for the game – which you can download from the FIFA 20 website – to give you some help.
FINAL WHISTLE
FIFA 20 does build upon FIFA 19 not only in terms of the new Volta mode but realistic gameplay as well.
Those two aspects alone make the game as enjoyable and exciting as ever, when combined with the now standard slick well-polished graphics, you have something which is as easy on the eye as watching Spain in full tiki-taka mode.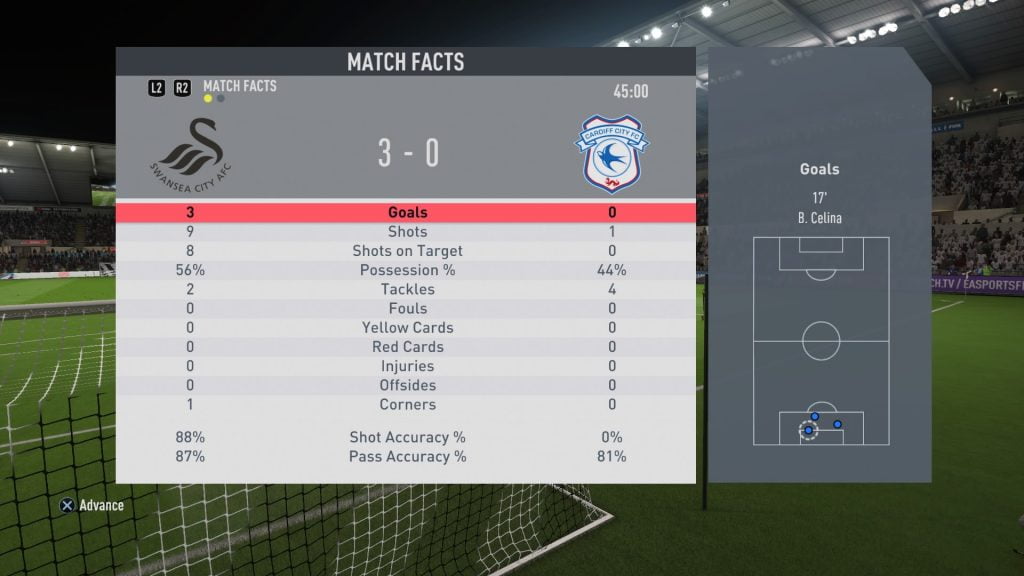 However, players who love Career Mode above all other modes of the game, may want to keep their hard earned cash in their pocket until such time as EA issue a patch to fix the obvious issues that sadly frequent Career Mode at the moment.
Thankfully for EA, they've got two stars in the gameplay and Volta, otherwise they may well have been looking at a long hard season away from the summit of football simulations.
Our FIFA 20 review was done playing the PlayStation 4 version of the game, which was kindly provided by the publisher.