Welcome to YJB Focus, where we meet a loyal Swans fan who also happens to be a regular visitor to the SCFC2 website.
This week features a regular visitor to the SCFC2 website…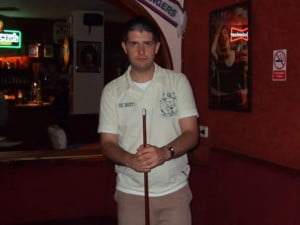 Name or SCFC2 Guestbook Name:
Andrew – North Hill
Occupation:
Communications/Marketing
How long have you been supporting the Swans?
Italia 90 got me into football. It was the season that followed I started following the Swans – 1990/91.
Why did you start supporting the Swans?
My dad's influence, basically. Like any 9 year old boy, your dad's your hero so when he said to me "seeing as you're into football now, fancy coming with me and watching your local team play?" – that was it, I was sold!
What was the first Swans game you attended and what are your memories of it?
My first game was actually in the early 80s – but I was only about 3 or 4 at the time and I can't remember who it was against or what the result was! All I remember is that we sat in the South Stand at the Vetch, and the man sitting in front of me chain smoked a pipe for the entire 90 minutes, much to my annoyance! My dad still laughs about it now, I played hell to try and leave after about 5 minutes but he wasn't having any of it!
The first game I can properly remember was a home pre-season friendly against Wolves in 1990 – I think we lost 4-0?
My first home league game was a 1-0 win against Huddersfield in August 1990. Jimmy Gilligan (what a great player) scored the winner.
Who is your worst Swans player of all time, and why?
Tough one to answer. Some dreadful players down the years. But my gut reaction when I saw the question was Ryan Casey. There have probably been many worse players than him over the years, but when you've stood on the North Bank (east side) as I did many a time during the late 90s/early 00s and watched cross after cross after cross shanked into the East Stand, it kind of leaves an indelible mark on your brain. He had a gift for ineptitude, fair play.
What is your least favourite away ground (past or present), and why?
I'm going to say Selhurst Park. Because I stupidly decided to try and drive there without a ticket during the season we got promoted to the Premier League, as it was pay on the day. I set out at 8 am, caught every bit of traffic imaginable and eventually arrived at half time. My right knee had locked up. And there was literally not a soul outside or around the ground so I couldn't even make a pitiful appeal to a steward to be let in. And we won 3-0. Not one of my favourite days.
Funniest moment whilst watching the Swans?
Probably Jonathan Coates tapping a quick free kick to himself then realising he couldn't touch the ball until someone else did. Perfectly summed up the crapness of the era.
You've got a meal deal ticket for Nando's, which Swans player (past or present) would you take with you and why?
Leon Britton. When he dies, I want to take his body to a local taxidermist and then have him on display in my living room. And no I don't care if that sounds weird.
What do you like most about the Swans?
If I could pick one thing it would be the way we've got where we are today on our own terms and no one else's. We haven't risked the future of the club to get where we are, we always try to play entertaining passing football, and we have the best chairman and board of directors in football.
If there was one thing you could change about the club what would it be?
On the pitch – not a lot really; off the pitch – would be lovely if we could buy the Liberty outright and spruce it up a bit.
Vetch Field pasty or Liberty hot dog?
You mean the choice between having your tongue burnt off, or your wallet emptied? I'll pass on both, thanks!
If you would like to feature on YJB Focus, then get in touch via our contact us form and you never know, you could be featured here next time!